These startups are most likely to succeed
So I recently came across this very interesting study showing the failure and success rate of startups, categorised by industry.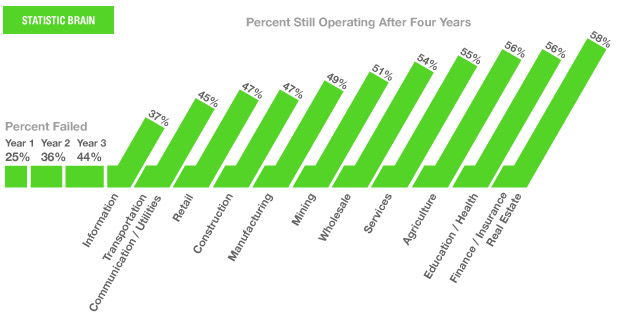 There was some interesting findings. For instance, what is the cause of failure:
Incompetence (46%)
Unbalanced Experience or Lack of Managerial Experience (30%)
Lack of Experiences in line of goods or services (11%)
Leading management mistakes:
Going into business for the wrong reasons
Advice from family and friends
Being in the wrong place at the wrong time
Business with worst rate of success after fifth year:
Plumbing, Heating, Air Conditioning
Single-Family Housing Construction
Grocery Stores
For more of these interesting findings visit the website here.